CARROT & DILL ARANCINI (V) (VE)
with orange and ginger houmous and basil oil.
6.75
CRISPY CALAMARI
Buttermilk calamari, sweet chilli veg, citrus aioli.
7.25
olives, breads, flavoured butters (V)
6.25
Soup of the day
Homemade soup of day served with crusty bread.
6.25
Ham hock terrine
with piccalilli, crispy bread and a black pudding scotch egg.
7.25
CREAMED LEEK, SPINACH & SMOKED CHEDDAR TART (V)
with watercress and honey dressing.
6.95
Pork belly
with apple and tarragon mash, ham melt, cider jus, thyme buttered greens.
16.50
Crispy sea bass
Garlic roast potatoes, braised fennel, spinach and lemon butter sauce.

15.95
Lamb rump
Confit garlic pesto, broad beans, roast shallots, sautéed potatoes and madeira sauce.
19.25
Baked Aubergine (V) (VE)
with a cauliflower cous cous, sundried tomatoes, olives and chilli.
13.25
pan roast chicken supreme
With stuffed portobello mushroom, dauphinoise potatoes, tenderstem broccoli and pepper sauce.
16.25
chorizo, prawn & crab linguini
with chilli, cherry tomatoes and coriander.
14.25
Curried Butternut squash pie (V) (VE)
with triple cooked chips, minted peas and gravy.
13.95
WILD MUSHROOM risotto (V)

With parmesan crisp, watercress and a soft poached egg.
13.95
Daily specials
Seasonal home made specials will be displayed on our board on a daily basis. Meals includes various different options such as pies, steaks and other delicious creations.
House chips (V)
Triple cooked chips with truffle oil, parmesan and rosemary salt.
3.95
thyme buttered greens (V)
Seasonal greens in thyme butter.
3.95
Side of MAC 'N' CHEESE (V)
4.95
House Salad
Bacon, Yorkshire blue, walnuts, lemon and dijon dressing.
4.25
crispy onion rings (V)
Battered using locally brewed Voyager beer.
3.95
apple & blackberry Crumble (V)
Served with white chocolate and cinnamon custard.

Served with sorbet (VE)
6.95
STICKy toffee pudding (V)
with vanilla ice cream and hazelnut toffee sauce

6.95
baileys panna cotta

with burnt white chocolate, shortbread and Kahlua ganache.
6.95
Ice cream (V)
Chocolate, Vanilla or Strawberry.
4.75
Chocolate orange fondant (V)

with vanilla ice cream and chocolate soil.

6.95
Yorkshire cheese platter (V)
Biscuits, celery, grapes, apple and shallot marmalade.
Add port +3.50
7.50
Sorbet (v) (VE)
Passionfruit and Mango, Lemon or Raspberry.
4.75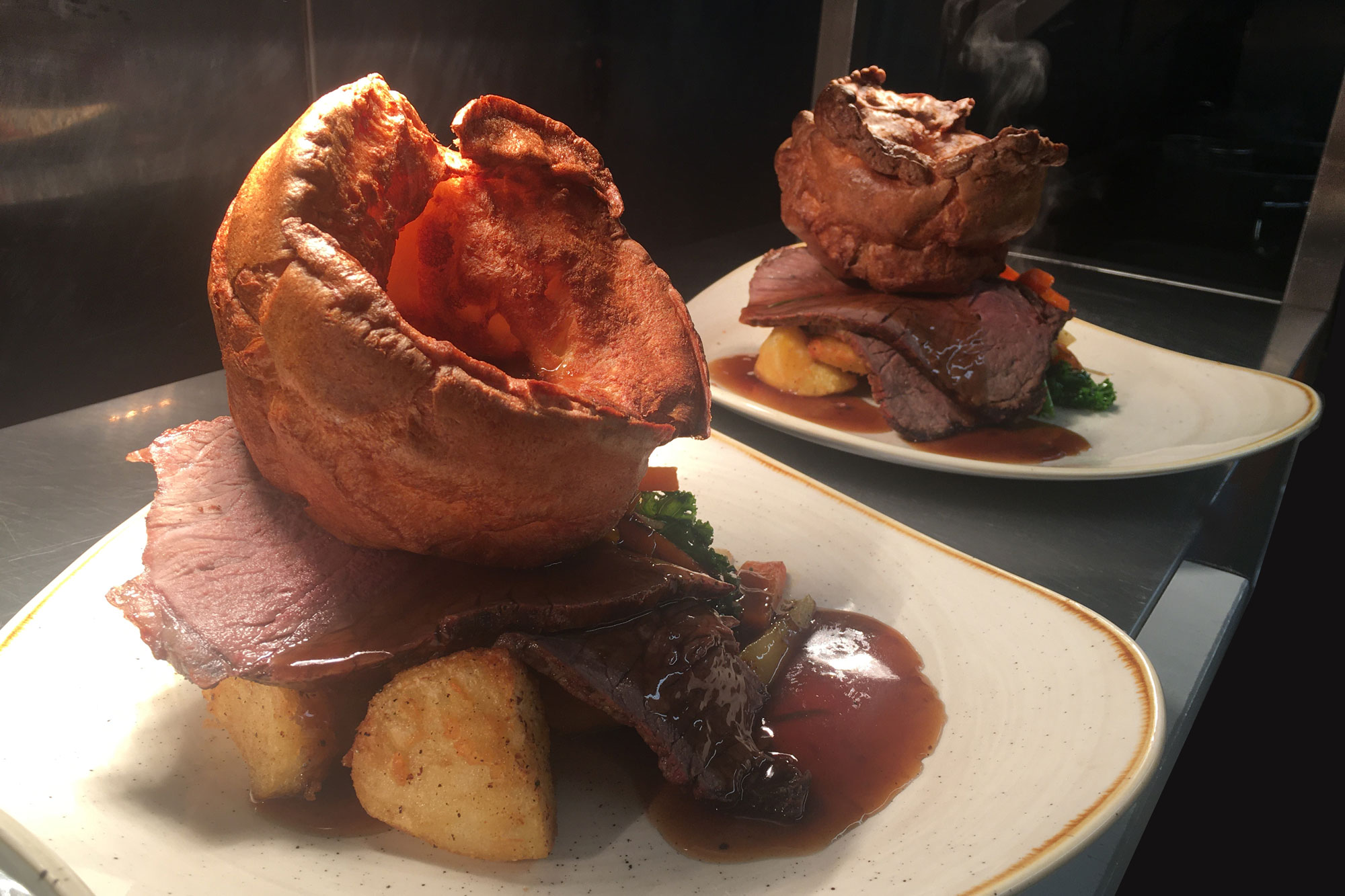 roast dinner
Traditional roast dinner with all the trimmings.
Choose from: Beef, Lamb, Pork or Chicken Supreme.

14.95
Veggie Roast Dinner (V)
Traditional roast dinner with all the trimmings.
Choose from: Cauliflower steak or veggie pie.
14.95
Please be sure to inform us of any allergies before placing your order, as not all ingredients are listed. Detailed allergen information is available upon request; please speak to management upon arrival. Our fish dishes may contain small bones, therefore please take care. We cannot guarantee the total absence of allergens in our dishes as allergens are present in our kitchen.
(V) Vegetarian (VE) Vegan