Beetroot arancini (V) (VE)
with toasted pine nuts and peppered basil homous.
5.50
CRISPY CALAMARI 
Buttermilk calamari, sweet chilli veg, citrus aioli.
6.25
olives, breads, flavoured butters (V)
6.25
Soup of the day
Homemade soup of day served with crusty bread.
4.95
Ham hock terrine
with piccalilli, crispy bread and a black pudding scotch egg.
6.75
Pork belly
Dauphinoise potatoes, ham & black pudding melt, cider jus, thyme buttered greens.
15.25
Pan fried salmon
Served on a warm sautéed potato, heirloom tomato, radish and dill salad with lemon dressing.
14.95
Heart of rump steak
Served with triple cooked chips, onion rings, beef tomato and button mushrooms.
21.50
Cauliflower risotto (V) (VE)
Roast cauliflower and turmeric risotto with sumac and soy yogurt.
12.95
8oz beef burger
Smoked applewood cheddar, crispy bacon, matchstick coleslaw, triple cooked chips.
13.95
chorizo, prawn & crab linguini
with chilli, cherry tomatoes and coriander.
14.25
Crispy sea bass
Sweet potato rosti, buttered greens, basil cream.
13.95
MEDITERRANEAN VEGETABLE CHILLI (V) (VE)
served with basmati rice, tortilla and sour yogurt dip.
12.75
Daily specials
Seasonal home made specials will be displayed on our board on a daily basis. Meals includes various different options such as pies, steaks and other delicious creations.
House chips (V)
Triple cooked chips with truffle oil, parmesan and rosemary salt.
3.75
thyme buttered greens (V)
Seasonal greens in thyme butter.
3.75
house SALAD
Roast squash and bacon side salad with walnuts and a red wine vinaigrette.
3.50
crispy onion rings (V)
Battered using locally brewed Voyager beer.
3.50
APPLE AND BLACKBERRY CRUMBLE (V)
Cinnamon, White chocolate custard.
Served with sorbet (VE)
5.75
Raspberry brownie (V)
Burnt white chocolate, Vanilla ice-cream
5.75
Ice cream (V)
Chocolate, Vanilla, Strawberry.
4.50
baileys pannacotta
Coffee ganache, Shortbread
5.95
Yorkshire cheese platter
Biscuits, Celery, Grapes, Apple, Shallot Marmalade
6.75
Sorbet (v) (VE)
Lemon, Raspberry, Passionfruit and mango.
4.50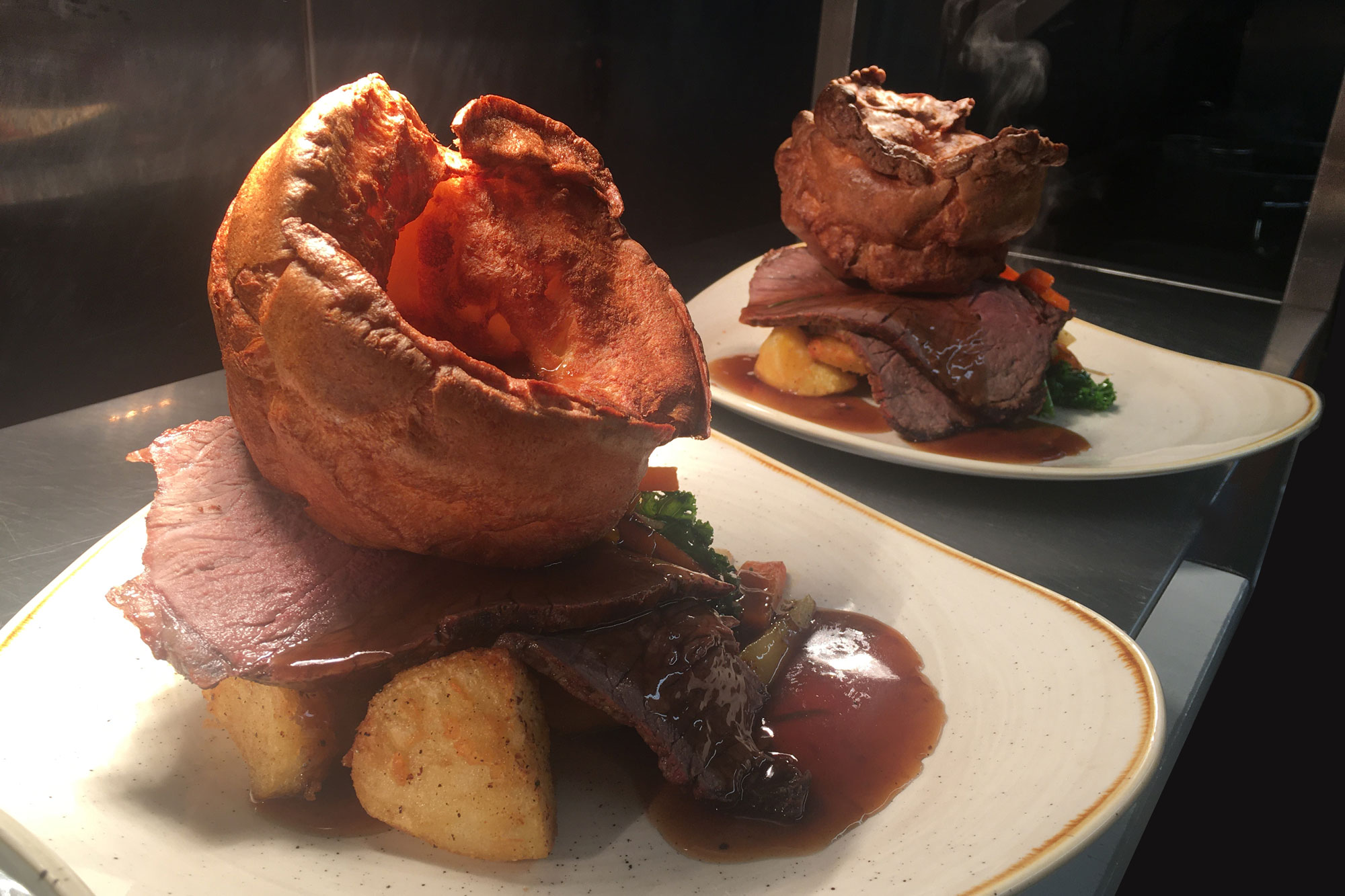 Sunday Roasts – Join us at the end of every month!
The perfect way to end the week is with a good old hearty roast dinner that's why Team Turnip will be opening for home-made Sunday Roasts the last Sunday of every month.
Please be sure to inform us of any allergies before placing your order, as not all ingredients are listed. Detailed allergen information is available upon request; please speak to management upon arrival. Our fish dishes may contain small bones, therefore please take care. We cannot guarantee the total absence of allergens in our dishes as allergens are present in our kitchen.
(V) Vegetarian (VE) Vegan